Updated: Sep 7, 2022
THE TEACHABLE TUTOR'S THOUGHTS
Volume 1 Issue 10
May 14, 2022




"These Kids Think I'm M.O.M (Made of Money)"
Unknown


The saying "money does not grow on trees" is one I often heard as a child. Children want what they want and parents spend what they can. The issue is how do we get our children to understand and appreciate the value of a dollar. It can be as simple as parents taking the time to give their children real life opportunities to manage money. The simple truth is that budgeting is just good money management.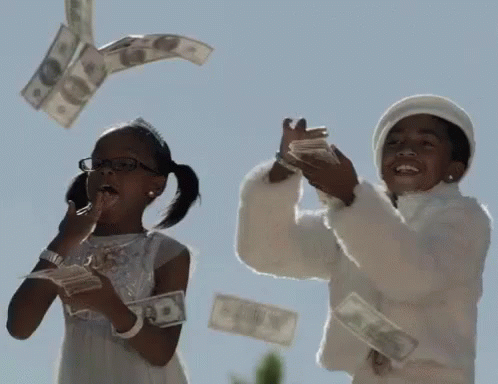 Learning how to manage money is not something that necessarily comes natural. Most adults have not had a single class on the basics of money management. We learn how to manage money from our personal experiences. However, we want out children to become adults who are more informed about managing money. So what can we do as parents???




Be a Model
Your child should see you, doing what you are preaching. Create a family budget for activities that you can plan with your child. For example create shopping budgets for:
groceries

clothing

family fun activities (bowling, movies, dinning out, roller skating & etc)
Before we can be a good model, we should understand how to systematically engage in practical budgeting.
Here are some of the basics for budgeting 101:.
-First assess your financial situation. Take a hard look at how much money you have to spend. (Talk to your child about how much money is available for spending)
-Second determine how you would like to spend your money. (Have a discussion about what you as a family would like to spend money on. Is it groceries, clothing, family fun or etc?)
-Third set a goal amount that you intend to spend (Figure out how much money you will budget for the chosen activity)
-Fourth stick to your budget when shopping (Make sure to demonstrate how to stretch a dollar by prudently maximizing the most value from your money)
⭐️The key takeaway is ..... allowing your child to see, hear and understand how you budget, will help them in their own personal budgeting journey.⭐️
Give Money Not Gifts
As parents, we typically ask our kids to tell us what they want for a gift. However we often end up with a laundry list of expensive items. Most children do not realize that the items they are asking for can be extremely expensive. Kids are not naturally concerned about a budget. As a parent, we can flip this indifference by telling our children that for their birthday or Christmas gift, they will be getting a set amount of money. For example you can gift your child fifty dollars for them to spend for a special occasion. This will introduce children into the world budgeting
Set Expectations
Let your child know and understand that the budget is set. Meaning you will not give them a penny more. Tell them that they will have to think carefully about how they spend their money. Let them understand that they might be able to change their minds after a purchase and get a refund if they are unsatisfied. However it is also important that they know that some items might not be refundable. Encourage your child to carefully choose; be clear to them that you don't expect them to cry, tantrum or become upset with how they spend their money.
Help Your Child Plan
Assist your child with how to budget their money. Ask them this question: 'how would you like to spend your cash'? Help them research the cost of things on their wish list. Allow them to compare the cost of what they want to their set budget (the gifted money). This is a great way to incorporate the monetary ideas of value, cost, and wants vs needs. You could even have your child watch a kid- friendly video about budgets. There are also wonderful books to help your child understand the concepts of money and budgeting. Listed below are a few books that you might want to use at home.
Here are some recommended books to read with your child at home:
Be sure to try these tips with your child. It is never too early to start to learn about the value of a dollar. Effective money management skills are essential to your child's financial future and also to your wallet. Once your child begins to understand the value of money, you will find less conflict when setting realistic budgets for spending money on the things your child might want or need. Remember that budgeting is really just good money management!
💜💜💜
"A Budget Is Telling Your Money Where To Go
Instead Of Wondering Where It Went" 😊
Dave Ramsey
©️COPYRIGHT 2022, NWAKAEGO NWAIFEJOKWU. ALL RIGHTS RESERVED
👩🏽‍🏫SUBSCRIBE TO MY BLOG
The

Teachable

Tutor's

Thoughts
Contact today for a consultation. Remote tutoring available.


Contact today for a consultation. In-person tutoring available. NYC location




The Teachable Tutor aka
Ms. Nwaifejokwu
Author, Educator, Entrepreneur, and Mom




"Teaching is a priceless gift to any determined learner. Good teachers are therefore priceless gifts to eager learners."